Big Fat Daddy's famous stands.
Recent news reports that Pitmaster Wayne M. Schafer, owner of Big Fat Daddy's was spotted around the Los Angeles area, in possible talks of opening a Big Fat Daddy's franchised restaurant. Schafer,  Pitmaster, and founder, whose small Baltimore restaurant grew to insta-fame thanks to the New York Times, Saveur Magazine and the writing of Steven Raichlen, closed up shop in Baltimore after 20 years to take the show on the road leaving behind the 24/7 restauranteur headache.  The restaurant called "Big Fat Daddy's Famous Pit Beef" on Route 40 in Baltimore, was also ran by his late brother, Brian Schafer and part of Baltimore history regarding "Pit Beef Row."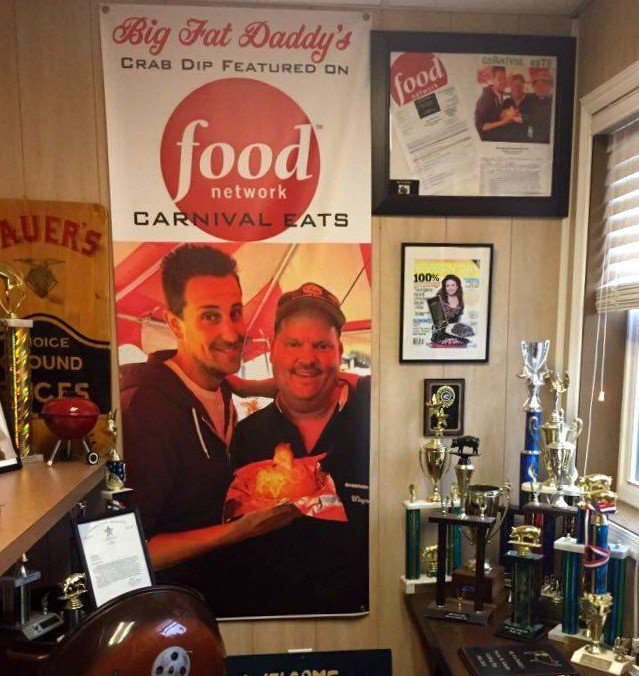 Schafer's Pitmaster Playground in Manchester, PA
Relocating to a 3000 square foot Pitmaster Compound and catering kitchen in Manchester, PA Schafer now strictly does fairs, festivals and catering out of a licensed facility that is closed to the public.  Schafer has not returned to the 7 days a week restaurant headache, but may decide to franchise and train someone else to take over the name.  This marks his 35th year in business.  Sources report, "Schafer was in talks with some top who's who of the restaurant industry here in LA. We think maybe he would be willing to franchise if the right opportunity comes along."
Big Fat Daddy's Turkey legs.
His East Coast menu now available at fairs and festivals from North Carolina to Massachusetts  includes jumbo turkey legs, slow smoked rib platters, roasted corn, apple roasted pulled pork barbecue in a sweet hickory sauce,  Baltimore-style pit beef,  Texas beef subs, creamy crab dip in a bread boule, crabby fries, (as featured on Food Network's Carnival Eats series with Noah Cappe) and even the occasional deep fried oreo. He's also known for Texas Burgers and Mango Chicken.
All barbecue items are cooked over open smoker boxes that Schafer designs himself or precooked on Southern Prides or Myron Mixon H20 water smoker.  The air boxes open top pits he uses on site at events are designed for ambient airflow.
Guess we will have to wait and see if Big Fat Daddy's will hit the West Coast.