The Venice Film Festival is an international rendez-vous reaching in 2017 its 74th edition. The world's most prestigious carpet where every year you see both the best actors on the show, those who made the story of Cinema true, and actors walking for the first time ahead to represent their last movie.
A few days ago Silvia Busacca too was on the Red Carpet; she is already a well-known public figure in Europe, acting in institutional roles in a short film promoted by the Rome Film Theatre Academy with
the direction of American producers such as Tyler Mane and Renae Geerlings, and musicals with local directors, in Sicily. She was there for the preview of Jim Carrey's new movie Jim & Dandy: The great
beyond. She was wearing a yellow dress made by Marciano Los Angeles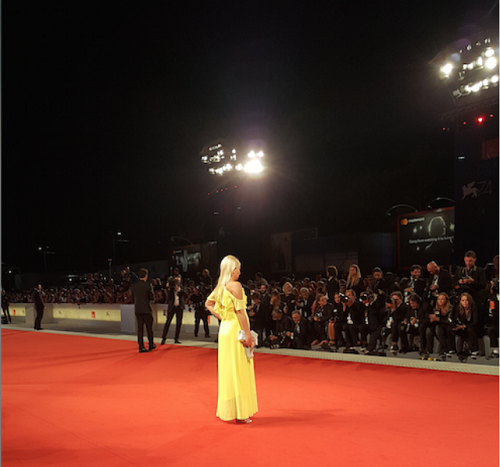 In 2017, a Lear full of satisfaction, Silvia attended also the International Seminar thanks to the Berlin TV Series Festival with the Hollywood producer Paul Haggis, and the Bernard Hiller International Masterclass
where she played a Show Case Performance International at Rome Golden Theatre.
Silvia Busacca is not only an international star but also a model and Ambassadress for Model United Nation Italy, Australia, United Kingdom and France.
Silvia Busacca also walked the Red Carpet at international Rome Cinema Fest in October 2016, as member actress of the Rome Artists Academy.
Silvia Busacca image is managed by the Agency Giancarlo Caremoli
Management in Milan, Viale Abruzzi, 13 Milano
BIOGRAPHY
Silvia Busacca – professional actress since 2017. Her talent was already known in 2016 for an international role, but also as a protagonist in 8 nations of the world as International Ambassadress for United Nation Model.
Silvia was born in Ragusa from a Sicilian but international family as her parents in the 70s moved to Los Angeles.
Her father cooperated with the American Consulate and lived mainly among Los Angeles, Hollywood e Las Vegas. Silvia has two brothers, one born in Hollywood and the other in Sicily, so she is the third and last of 3 kids.
She lost her parents in 2013, and the rest of her family lives in Los Angeles.
Her uncle, now dead, was the owner of a small Atelier in Los Angeles appreciated by American stars.
Her passion for acting was born at the age of 17 with a musical from "Anna Frank" Diary, where she was rewarded officially as an actress.
During her artistic path, it is worth mentioning the Rome Artists Academy, a school with good reputation, and important people like the Italian Master of Cinema Pupi Avati; the actor luca Ward for dubbing; playing, the actors Paolo Conticini e Andrea Roncato; communicative language and diction Prof. Alberto Lori, a RAI journalist.
A remarkable point of reference during her artistic career was Ennio Coltorti, one of the most important directors of the Italian theatre: he was the Master who followed her in her academic path until she took the role of protagonist in a sitcom promoted by the Academy itself. In her artistic profile, we see also a Campus on Cinema promoted by Taormina Film Festival 2010 where attended the Italian stars Ficarra e Picone, Cristiana Capotondi, and Ambra Angiolini.
Silvia joined also several Masterclass with international actors such as: the American actor Robert De Niro, the producer Dario Argento and the designer Valentino, who led a Masterclass on fashion at Taormina Film Festival 2010.
Recently Silvia Busacca's Interview was published on (https://article.wn.com/view/2017/09/14/interview_with_international_actress_silvia_busacca/)
Silvia Busacca official (www.silviabusacca.com)
Facebook Official (https://www.facebook.com/SilviaBusaccaAttrice/)
Twitter Official (https://twitter.com/silviabusacca)
Instagram Official (https://www.instagram.com/silvia_busacca/)
Silvia Busacca reference for interviews: + 39 3347525240 – or [email protected]