The film industry eyes the latest newbie on the block, a multi-talented raven haired beauty who, get this, is an author, medical specialist, editor and now to be scriptwriter and producer of her first movie. Dr Nirvadha Singh also known as Doc N is an exceptionally gifted yet humble author and doctor. But where does this talent pour in from?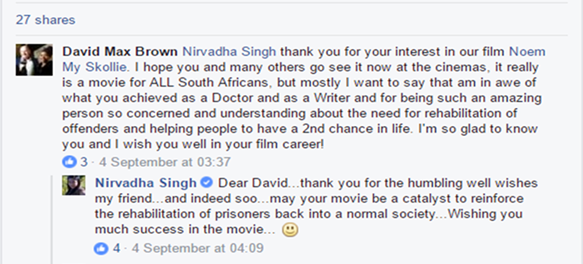 On further browsing through Doc N's Facebook profile, we spotted the famous and respected South African filmmaker David Max Brown, who happens to be producer of the latest Oscar nominee movie Noem My Skollie, with the good doctor pictured herein.
Brown left a highly praiseworthy message for Doc N on her page reading "I want to say that am in awe of what you achieved as a Doctor and as a Writer and for being such an amazing person so concerned and understanding about the need for rehabilitation of offenders and helping people to have a 2nd chance in life. I'm so glad to know you and I wish you well in your film career!" The chat ended with the kind-hearted author doctor wishing her friend Brown much success in his movie.
Brown informs us that he met Doc N at the 2016 Durban Film Mart International Festival and such was her personality that they bonded instantly. He was a facilitator on the Business Model Canvas and relays that Doc N's wonderful enthusiastic spirit shone in the class.
"After just one day in the workshop, Nirvadha was able to focus on and brainstorm the business model for the book she was about to publish and the multi-media spin-offs related to that and I was blown away by her incredible grasp of just about every aspect of the business model process and her range of talent in the media industry that was then exposed as we broadened the horizon of the business plan" praises Brown about Doc N.
Brown relates that both he and Doc N have a like-minded approach to the world and the film industry which has grown their friendship professionally within the film fraternity. His recent film Noem My Skollie/ Call Me Thief that is currently in its twelfth week on theatrical release in South Africa was just yesterday accepted into competition at the Palm Springs International Film Festival (2nd to 16th January 2017) and Brown tells us he was thrilled to share this fantastic news immediately with his much respected and talented friend, Doc N.
From Zollywood to Bollywood to Hollywood, we will be following Doc N closely to the theatres.