MAY 23 2015
A night of one person shows and oh what a night. With a great variety of topics, each 10-minute play was outstanding on its own; making the 8 plays together an experience on its own. Directed by Debra De Liso and written by the performers, these 8 one person shows really take you through a journey into their lives and in an unexpected way, make you think about your own story. In a black box set, with no more than a couple of props or sometimes none, the actors told their story.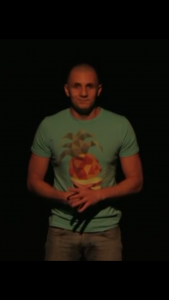 These stories included life in the military, divorce, relationships, the struggles of race and even death. All the performers came on stage ready to bare it all, with no excuses or fears. The audience laughed and cried all throughout. Sometimes you would think that in shows like this, the actors would pity themselves and try to make you feel sorry for them; but these shows were completely the opposite. While the actors told their true stories, with tragedies or difficult times, they did it in such a way where they let the audience know how they were feeling and how they got over it; making fun of themselves or just letting the audience know that what happened only made them stronger. By doing this, there was no self-pity, just laughter, and bravery. This was obviously a directorial choice, which De Liso smartly pushed on her actors. When she was asked about this she said '' There is no point in telling a story just to make the audience sad, the audience wants to see a solution. Also, there is nothing less entertaining than seeing actors pity themselves on stage.'' It was obvious that the actors really understood the direction and the shows were all about overcoming and how to stay strong, which made it for a very inspirational night.
But one of the definite standouts out of all the shows was Romantically Cynical by Javier Melgar Santoveña. Javier talked about why he has become so cynical when it comes to his relationships, starting with the story about his first love and how it never went anywhere. His second love that was pretty much the same thing and how he decided to deal with his love mishaps. He takes us through the journey of his sexual encounters and how he tried to find love through sex. He explains to the audience that while he wasn't getting the love he should at least be getting laid, but not being able to make a more stable connection, as he said ''He f**ked himself into cynicism''.  Javier's bad luck in love got to a point where he was offered money in exchange for sex, which was the turning point for him, because he realized that was not the way to find love.
The reason his show stood out was because of his final monologue, where he tells us how he hit rock bottom but that all he wanted was love. Javier lets the audience know that it's ok to be alone and to make mistakes but to never give up hope; never stop trying because we are alive. After laughing hysterically at his story with this final monologue he brought me to tears and inspired me, and I'm sure the entire audience, to never give up on love. His honesty and acceptance about who he is and what he went through really connected with the audience and definitely left a mark in all of us.
If you wanna watch a video of the show go to YouTube and search for Romantically Cynical by Javier Melgar Santoveña. Check it out, I can assure you won't be disappointed.
Peter Malone
Los Angeles Journal