Have you ever watched a film and loved it so much that you wish there was more of it? Well, the good news is we live in the day and age where every film ever made is being turned into a series, including the new hilarious film Dr. Phlill.  The film stars Australian star Lilly Dennis, South African talent Amy Letcher and the hilarious Blair Beck.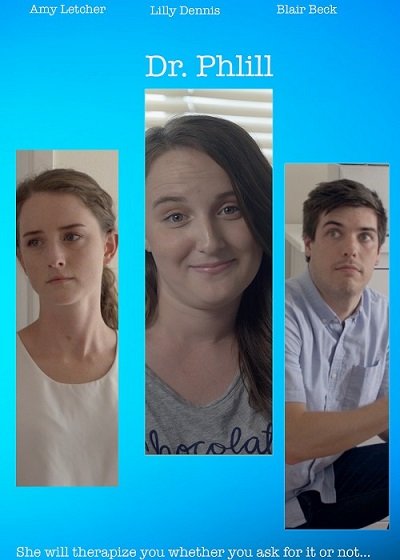 Dr. Phlill is the story of two roommates; Lillian, AKA Dr. Phlill, played by Dennis, a woman with dreams of having her own reality TV show about couples' therapy. Addie,played by Letcher, a perfectly stable person in a some-what perfect relationship. This doesn't work for Lillian and she sets out to create issues for the couple;so, she has some material for her reality TV special.  This hilarious comedy is a non-stop laugh fest and the heart of the story is surprisingly truly relatable.  Lillian tries to create some hard-core problems to counsel them through and Addie's, somewhat naïve boyfriend, Michael, is all for the therapy.  It's eventually revealed that they do have real issues; Addie's complete fear of marriage.  The film is brilliantly shot like a reality TV show and this cinematography element only adds to the brilliance of the comedy. 
Dr. Phlill is simply hilarious and cast extremely well. This group of comedic actors play the reality of the situation perfectly and it's no surprise the film has been ordered for a three-season series. The film was directed by Nick Conroy and is set to be produced into series by Bravemaker. The film has gained a large following from its film festival circuit run and fans can't wait to see the series.
Website: https://www.drphlillseries.com