Kesten Elliott Harris was born on July 30, 1997, at Antelope Valley Hospital in Lancaster, California. He was just over Eight Pounds and was alert from the day he was born.
At the age of five years old, he entered Kindergarten at Kendrick Elementary but got bullied a lot because the kids noticed he was a little different, with not being able to run or balance himself very well, not very social, and an easy target. He also had Asthma along with a speech problem where he couldn't pronounce certain words so he took Speech Therapy at school. He was thrown in trash cans, had his chair taken away by other kids so he had to stand all day, and actual thought if someone said "shut up" they said a bad word. He managed to meet three nice boys who are still his friends to this day.
He got really sick as a child and developed a kidney infection with only 60% kidney function. He developed high blood pressure and was prescribed steroids. He stayed in the Hospital for a whole week with his Mom sleeping in a chair right next to him with his Autistic little Brother sleeping on her back, but she never left his side. He regained his strength and recovered.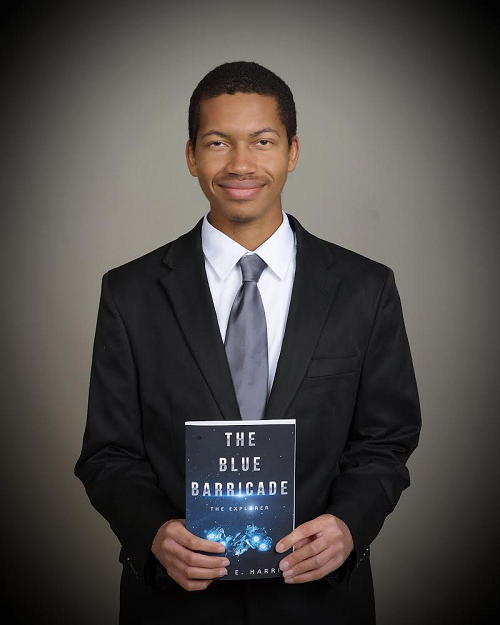 By the time he entered Ollivier Middle School he realized he wanted to be an Author so started writing rough drafts of his First Book. He moved away from his childhood friends and would read huge Harry Potter Books to entertain himself rather than socialize with the kids at his new school Rosedale North Elementary School. He had a hard time fitting in so his Teacher asked if he was Autistic but he had already been misdiagnosed with Generalized Anxiety Disorder because he had Nightmares, Panic Attacks, Headaches, Anxiety, with Periods of Depression from the age of seven years old for which he was prescribed medication.
By this time he had a younger Brother who was diagnosed with Classic Autism and they went to several Therapies together. This was hard for him because his younger Brother has very severe Autism and needs lot of attention and help.
He went on to graduate from Frontier High School with Honors and has always gotten straight A's in school since the day he started without doing homework. By the time he graduated he had already written Two Novels which was non published. He was encouraged by his Teachers to continue writing so he did. He wrote and rewrote his First Book several times and just kept writing until he got better and better.
No stranger to hard work, Kesten worked all Summer after High School and saved his money, hired a Proofreader, a Book Cover Designer, and published his first Novel through Amazon all on his own with his own money and created a Website Named: KestenEHarris.Com
He has his own Business Named: Kesten E. Harris Stardust Books Facebook Business Profile Page Named: Kesten E. Harris His Books are Young Adult Science Fiction. The first one being called "The Blue Barricade", the second one called "The Gray Raid", and this third Book titled "The Green General" all available now on Amazon. He has a very vivid imagination and Writing is his passion.
He just wants to be able to earn enough income as an Author to make a living for him and his Autistic younger Brother who will need full time lifetime care and assistance from his older Brother.
His Hobbies now are bike riding, playing video games, and hanging out with his best friends from childhood. He has overcome so many obstacles to be able to publish his Books for the world to see which is not easy for someone with Autism. He is truly a special young man and a fantastic inspiration. His major goal in life and vision for the future is to be a successful Author.
Website: www.kesteneharris.com