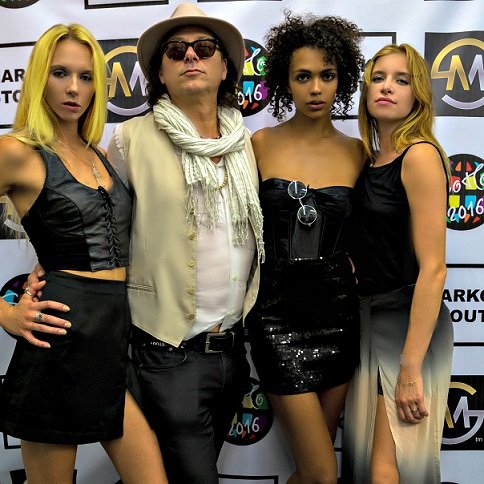 Articles, social media and forums around the internet are calling the popular New York City artist, Marko Stout the next Andy Warhol. Stout's reinvention of the pop style, made famous by Mr. Warhol in the 1960s has made him one of the hottest modern artists working today.
Marko Stout has risen from local cult celebrity to fame in the art world after a few high profile sales and shows this year. Many in the art community and media are now comparing Marko Stout and his work to the other famous pop artist, Andy Warhol. The Huffington Post recently featured an article titled, "The Next Andy Warhol: An Interview with Marko Stout, where the Post compared the rise of contemporary New York pop artist Marko Stout to that of Andy Warhol, drawing the conclusion that for many reasons Marko Stout is this generation's Andy Warhol. However, Stout himself remains dismissive of the comparisons stating, "Many critics compare my work to Warhol, but they are wrong it's my own style- pure Marko Stout, no one else."
Marko Stout is considered by many to be the quintessential New York artist and up until very recently few outside of NYC knew his name. However after a few high profile exhibitions and sales, the art world and media have taken notice.
Marko Stout's artwork is a reinvention of the pop movement which was a fad in the 1960s. However, this isn't just any regular bland reinvention of the pop art theme; Stout is nearly unpredictable; he has a very unique twist to the pop style. His works give off a hardcore, raw, independent, 'you can't tell me what to do' kinda attitude. He portrays the tough, vigorous lifestyle of New York City using ladies as his subjects who often appear to be somewhat in pain, overwhelmed by the chaotic world sounding them all the while maintaining a chic, detached, sexy attitude of a sophisticated twenty-first century urban dweller which distinguishes his works from that of Andy Warhol.
There is an infusion of gritty, dark-urban and somewhat sexual feel to his artworks that has endeared him to the younger millennial age audience- as it sort of speaks to them and their youthful struggles, drive, and fantasies.
Stout's exploration of sexuality puts a modern twist on this artistic theme with a certain urban gritty and accessible feel perfect for a modern audience. It's why he's so popular- especially with young people. Images of his works have exploded over social media in the last year- especially since Stout made news with his record breaking sale of his colossal figurative sculptures to a Berlin collector and nightclub owner at the ArtExpo Show in New York City last April. The sale was the largest at the show and one of the biggest in the long history of the Expo.
The extensive social media buzz and cult like attention among young art fans, along with the artist's rising sales and crowded gallery attendance has many in the art community suggesting that this New York artist may indeed be the millennial generation's Andy Warhol.